News From : DagangHalal.com (11 Dec 2013)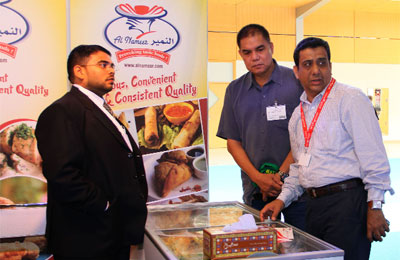 More than 125 of the world's leading halal manufacturers and distributors from over 35 countries are set to take part in an upcoming halal exhibition and congress in Sharjah.
The second OIC Halal Middle East Exhibition & Congress will be held at Expo Centre Sharjah from December 16 to 18.
"Emirates Authority for Standardisation and Metrology (ESMA) is working on formulating a comprehensive halal framework to be laid down by 2014, which will be the world's first systematic drive to set global standards by providing halal certification where the standards are met," said Saif Mohammed Al Midfa, CEO, Expo Centre Sharjah.
The event will consist of a trade fair and a congress, with the new addition of a kitchen essentials show, the Kitchen Equipment & Technology Exhibition Middle East.
"Gone are the days when the term 'halal' was applied mostly to the food we eat. Now it covers a range of products and services, including high fashion, toiletries, medicine, hotels and tourism, entertainment and education," added Midfa.
"Along with this expanding product base, the industry has to deal with the issue of unified standards of certification. Being a comprehensive event that includes a trade fair where top companies are present and leading minds converge, the OIC Halal Middle East will be a significant event for the industry."
A series of specialized workshops will be held concurrently with the second OIC Halal Middle East. The workshops are aimed at providing in-depth knowledge about halal trade potential in specific sectors; UAE rules and regulations for certification, accreditation & standards; import procedures after 2014; Dubai Municipality and ESMA rules relating to pharmaceuticals, cosmetics & personal care; and hospitality industry.
"With new regulations, every food brand & food outlet that claims to sell halal food will come under the scanner that includes details of ingredients used, processing method, plantation, chemicals used, packaging and animal slaughtering," said Asad Sajjad, CEO of Halal Development Council of Pakistan and co-organiser of the Halal Congress Middle East.
"The workshops will give participants a lowdown on all Shariah regulations and new halal standards."
All the four workshops will have interactive lectures and presentations, and will feature renowned persons from ministries, halal bodies and accreditation councils.
Congress sessions will address topics such as 'Tapping the growing halal trade', 'Benefits of halal certification', panel discussions on science behind halal and the need for uniform halal standards, 'Islamic banking & natural allies of halal', 'Harmonization of halal standards', and 'Understanding the processes and procedures involved'.
The inaugural Kitchen Equipment & Technology Exhibition is set to provide easy access to the latest kitchen essentials to the region's hospitality and catering industry. An integral part of the exhibition will be the 'Chef's Corner', which will feature live demo, workshops and discussion sessions.
Source : www.tradearabia.com