News From : DagangHalal.com (14 Jan 2013)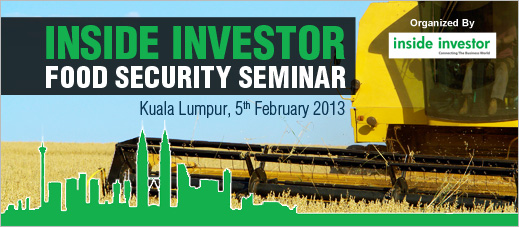 Food security is one of the most pressing issues of this century, not only for arid regions in the Middle East, but also for fertile countries. It is not only an issue of whether farming is possible or not in a particular region, but a complex matter that involves three main issues: food availability, which is determined by global food trade; food access, determined by food prices; and food use, which, together with changing eating habits in the modern age, has led to medical conditions such as obesity.
Managing global food security is a task that involves many parties, starting from those who are responsible for agricultural policies in their own countries and reaching to those who dominate the liberalised global food and agricultural trade, and finally to those who are processing the food.
The Inside Investor Seminar on Food Security is bringing the challenges the world faces with a strained global food supply to the table. First of all, strategies need to be found for sustainable agricultural and food management in the source countries. Agriculture remains the largest employment sector in most developing countries, and international agriculture agreements are crucial to a country's food security. Some critics argue that trade liberalisation may reduce a country's food security by reducing agricultural employment levels. Concern about this has led a group of World Trade Organisation member states to recommend that current negotiations on agricultural agreements should allow developing countries to re-evaluate and raise tariffs on key products to protect national food security and employment. What the impact of the further liberalisation of food and agricultural trade means for developing and emerging countries needs to be discussed, as well as how domestic economic and social policies can offset possibly negative impacts of international policies relating to food trade. This issue includes sustainable water and energy management, as well as new agricultural methods such as genetically modified food and the impact of bioenergy and agrofuels.
Another sector of concern is how to ensure that imported food products are of acceptable quality and safe to eat. This is particularly related to the halal industry, where it needs to be ensured that halal practices are maintained. A number of Southeast Asian countries, namely Malaysia, Indonesia, Thailand and Brunei, are putting a focus on halal food processing in order to tap the growing global market for Shariah-compliant food, which is growing in and outside of the Muslim world. It has to be determined how a global halal food and product standard can be reached, and what challenges investors face when entering global food production partnerships in halal.
Global food supply will also need to tackle the problem of obesity in a growing number of countries. Solutions for reducing the percentage of overweight and obese people seen in industrialised countries, as well as those increasingly appearing in the Middle East and Asia, is a challenge of the future that goes parallel with nutritional education, change in eating habits and simply healthier food, a trend that producers are already taking into account. While the countries with the highest rates of obesity currently include the US, Mexico, Canada, Australia, the UK, Ireland and Chile, Gulf nations and a growing number of East Asian countries have joined the club. In the GCC, obesity has become a notable health issue due to changes associated with the discovery of oil and the subsequent increase in wealth that has led to a more sedentary lifestyle. In Southeast Asia, obesity is becoming an issue in countries with a growing middle class that is adapting a Western lifestyle, which includes fast food.
For the GCC in particular, fighting obesity will go hand in hand with tackling food shortages that loom as risks for an import-dependent region. One of the main issues is that the bulk of the region's water is directed into agriculture, a sector that provides less than 5 per cent of GDP. Artificially cheap water has enabled the development of water-intensive crops in a region that has no natural advantage in producing these, but where governments provide generous subsidies to ensure future food supplies. A few GCC countries are beginning to change this policy, for instance by phasing out energy-intensive crops or limiting the use of land for farming, but this increases the need to import more food. The policies of GCC governments on ensuring food security for the Gulf imply that investments should be tailored to the dietary requirements of the GCC states. However, some private firms and even some sovereign wealth funds may focus instead on agricultural investments designed to maximise profits in global markets. These investments require quite different strategies. For food security, the main goal is a stable supply of imports to the Gulf at reasonable prices. For profit maximisation, the goal is high prices where the choice of the end-market is less important. There are considerable political risks attached to both approaches, depending on how they are managed. Therefore, the challenges are considerable and need to be discussed between investors and policymakers on an equal footing.