News From : DagangHalal.com (19 Apr 2011)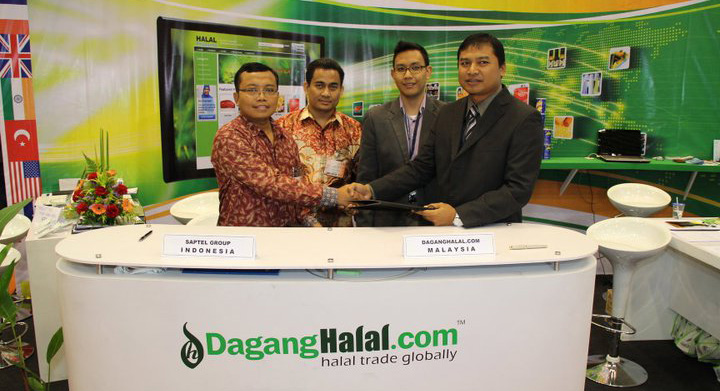 The year 2011 will see DagangHalal.com (DagangHalal) entering into a whole new frontier. Since its inception in 2007, DagangHalal has since matured by strategically positioning itself as the world's leading Halal e-marketplace and is set to explore for potential partners globally. What once began as addressing the needs of Malaysian based SMEs in the Halal industry is now targeting on global Halal industry players. Indeed, 60% of the world's Muslim population resides in Asia and Malaysia rests in the heart of South East Asia. This makes DagangHalal the perfect Halal e-marketplace platform to draw the world's Halal industry buyers and importers on one common ground.
In the local arena, DagangHalal has received undivided support from the Malaysian government alike Ministry of International Trade and Industry (MITI) and Malaysia Department of Islamic Development (JAKIM). Its involvement in various Halal programs and activities such as the 1Malaysia 1Halal Campaign (1M1H) in collaboration with JAKIM, the World Halal Forum (WHF) as the official media partner, Malaysia International Halal Showcase (MIHAS) and many others has indeed catapulted DagangHalal position as a legitimate reference for global Halal industry development.
As of this year, DagangHalal will be spreading its' wings in the global market through a special program called the Global Halal Network Partnership Programme (GHNPP). This program is specially catered for international business entities who are interested to venture into the Halal IT based project, which is DagangHalal core business activity.
The MoU signing ceremony between DagangHalal and SAPTEL Group marked the first of such collaboration. The effort was materialized through a joint industry promotion program between DagangHalal and MATRADE office in Jakarta. The Indonesian company was selected among many others due to their unique 3Cs (Capacity, Capabilities and Corporation) approach in conducting business.
DagangAsia Net Sdn Bhd through its world No.1 Halal business portal, DagangHalal, has provided a niche Halal e-marketplace with an exception. It is dedicated to integrate Halal manufacturers, exporters, importers, distributors and service providers as to manifest the full potential of the people and businesses in the global Halal market via its online Halal e-marketplace.
SAPTEL Group was founded and formed as a telecommunication and information technology company. It is committed at developing business and strengthens capabilities in providing solutions to its customers; among others projects involving e-procurement for BUMN and Oil & Gas Company, developing asset management for PT Reliance and many other prominent private and government agencies.
Malaysia and Indonesia has a greater advantage in the global Halal industry for both countries are a standard reference for determining the world Halal. Furthermore with the country's Muslim population dominating the world Muslim consumers, it is no wonder that Halal products and services are highly demanded in this region with a market estimated to be worth more than MYR190 billion. This collaboration will definitely boost Malaysia-Indonesia Halal industry and further strengthen the economic ties between these two countries.
The ceremony was took place at DagangHalal booth during MIHAS 2011 on 9 April 2011 (Saturday) at Kuala Lumpur Convention Centre.